south indian cabbage
rating: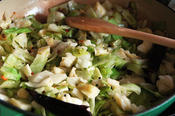 serves 4

4 tbsps veg oil
a generous pinch of ground asafoetida
1 tsp brown mustard seeds
1 tsp yellow split peas (urad dal)
5-6 fenugreek seeds
2-3 dried red chilis
10 fresh curry leaves or fresh basil
340g green cabbage, cored and shredded
1 tsp salt

Put the oil into a large wok or frying pan and set over medium-high heat. When hot, add asafetida. A second later, add mustard seeds - as soon as they start to pop (a matter of seconds) add fenugreek, whole red chillies and urad dal. Allow the dal to turn red and the chillies to turn dark, then put in the curry leaves and the cabbage. Give a few quick stires. Add salt.

Stir and cook for one minute, then cover, turn heat to low and cook for 6-8 minutes until cabbage has wilted (you might need to add a sprinkling of water). Uncover, taste for seasoning, stir and cook for another 1-2 minutes.